DirecTV Colombia – Small 3ft. Dish on sat 95° West – USD $350 (50% All English)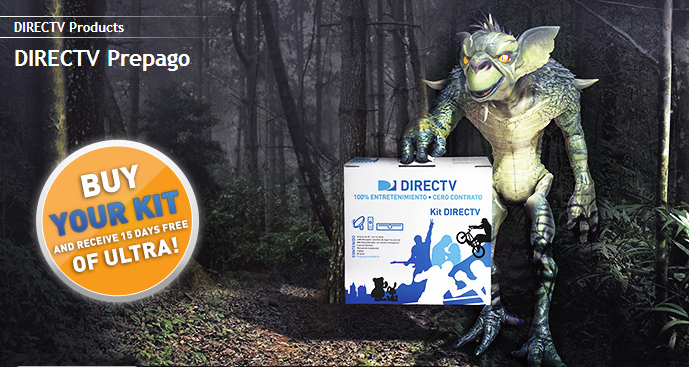 General information: DirecTV Latin America, or DirecTV Puerto Rico, it's a great alternative for English Speaking customers from the United States or Canada who seek satellite TV programming in English at a reasonable cost. As you all know, Puerto Rico is "another" state of the USA and therefore, most of DirecTV Puerto Rico's content is in English from American TV Networks. One of the key points of this satellite is that it can be locked with a relative small inexpensive 3 ft. antenna from Panamá, Central America since this satellite was built by the Multinational DirecTV just for Latin America. A 100% stable satellite All in English TV solution that you pay directly to DirecTV Latin America using your international debit or credit while you stay in Panamá.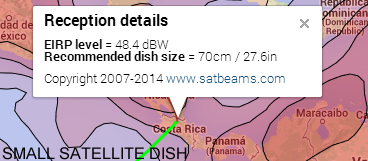 Check out DirecTV Puerto Rico's Prepago (No contract) Website.
Image below shows a "DirecTV PR receiver "
You can hook up one Television set with this DirecTV PR receiver. Just one TV in SD.
All of our customers become "Account Holders" of the satellite receiver. You will get a DirecTV PR Account Number and Security Pin so that you can deal directly with DirecTV PR. You control in 100% the satellite receiver all the time so you can fire us if we do not commit to certain level of quality of service. You truly are in the the driver´s seat when you purchase from us.
Channel Line up from DirecTV All-in-English from Puerto Rico : 
http://www2.directvpr.com/pdf_pr/nuevos-planes-de-programacion.pdf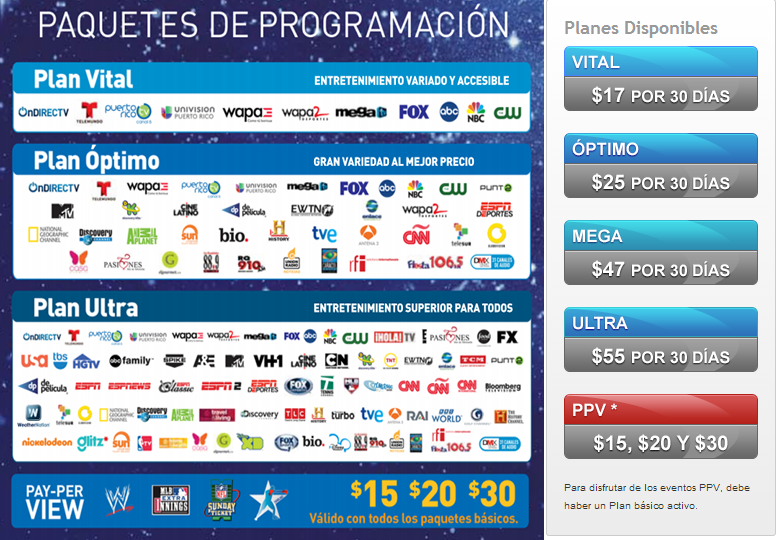 http://s21.postimg.org/ptc9xgt07/Direc_TV_Prepaid_Puerto_Rico_TV_Channels.png
Follow the LIVE TV GUIDE on your computer, just press here.
or follow the Live TV Guide on your Mobile or Tablet, just press here.
If you want to check all the TV channels in the transponders of the Latin America satellite 95W, you can click here.
49 CHANNELS IN ENGLISH. (LAST UPDATED MARCH 28, 2014)
FOX #170, ABC #172, CBS #174, NBC #176, E! #222, GLTZ #224, FOOD #228, DH&H #229,FX #242, TNT #244,
USA #246, TBS #248, HTV #250, ABCF #252, SPKE #254, A&E #256, MTVu #260, VH1 #262, TOON #320,
NICK #322, DISN #324, TDIS #326, KIDS #330, BOOM #336, TCM #504, AMC #511, ESPN #645, ESNN #646,
ESPC #647, ESN2 #648,TTC #652, NBC #653, GOLF #654, FXS1 #655, CNN #702, CNNI #706, BTV #710, TWC 712
WN #713, NGEO #730, DISC #732, ANML #734, TLC #740, THC #742, BIO #744, DSC #752, TLC #754, HIST #756,
TRBO #758, BBC NEWS #768
Youtube Video…. DirecTV prepago installed in my office in Ciudad Colón, Costa Rica. In Panama works in the same way… (last updated April 1 of 2014)
Youtube Video…. What channels do work on that satellite?.. (last updated April 1 of 2014)
This is the product/package that we sell:
Basic Full installation (One roof-mounted Dish, One RG6 Coax Cable, One Receiver) – FREE.
One pre-paid kit with an ORIGINAL ACTIVATED DirecTV Latin America satellite receiver box from Puerto Rico  – FREE.
Satellite Receiver Activation – FREE.
Travel Expenses to anywhere in Chiriquí, Volcán, Boquete, Panamá – US $350.
TOTAL INVESTMENT : USD $350
It is important to mention that we only accept cash or instant wire transfer as payment method. As of now, no checks nor credit cards are accepted.
Important :  This original (branded DirecTV) satellite TV box does not need an Internet connection at the location where it gets installed.You can watch the NFL Sunday Ticket Pass through DirecTV Puerto Rico. Watch all 13 live games every Sunday for 4 months.
Major League Baseball Extra Innings is also available through DirecTV Puerto Rico.
Rain issue:
It is a fact that when it rains, the electromagnetic waves get degraded on the 3 ft. dish antenna and thus, the satellite TV signal could go away for sometime.
Also, it is important to mention that some clients have reported to have better performace with Dish Network USA with Small 3 ft. Dish and DirecTV Puerto Rico under heavy rain. Even though, both satellite tv packages from Puerto Rico and the U.S. require smaller 3 ft. dish antennas, the electromagnetic footprint from those 2 satellites is so strong that they can outperform a 10 ft. dish antenna pointing to the North American satellites from Dish Networks USA. Said in other words, some people with a  3ft. antenna are watching the American ESPN under rain in Panama while some other people with a 8 ft. antenna are just turning their TV off.
IMPORTANT : With small dish installations like with DirecTV Puerto Rico, we DO NOT ask to provide any money up front. We let our product speak for itself. We will visit you, install the satellite service and once it is up and running and you are a happy customer then we proceed to settle the investment part.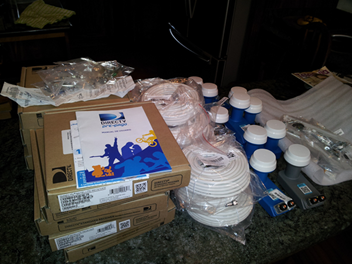 What we are seeking : "We do not want to become a "one-time" transactional business partner that does not answer your phone calls nor replies to your email questions once the equipment is sold like 90% of the SAT installers in Panama, instead, we would like to establish a long term business relationship with you and provide to you and your family a high quality TV experience at a fair price while you enjoy living in Panama."
For more information about this package, please contact Alberto Araya, Computer Engineer from Western Michigan University at  alberto@UsaTvSatFromPanama.com (English, Spanish and German)